Hometown hero Anthony Crolla lost on points in a hard-fought, sportsmanlike battle with the silky Venezuelan Jorge Linares at Manchesters MEN Arena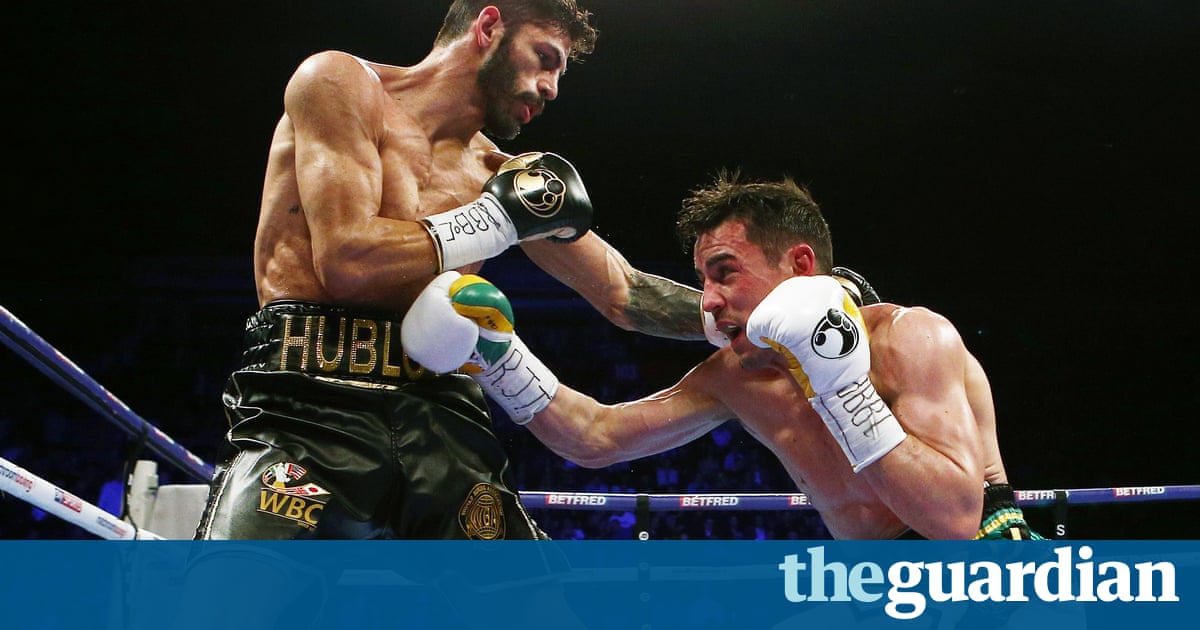 Anthony Crolla said he had never felt better and then proceeded to give another valiant display against Jorge Linares. It was not enough, though, to wrest the WBA lightweight and Ring Magazine belts from the holder who, just as in their first bout, outclassed his opponent, allowing him only three rounds.
This was reflected in the verdict when it was read out 118-109 on all three judges cards: the unanimous decision and size of margin fairly reflected the gulf in performance from each.
Hes a fantastic fighter, Im just sorry I couldnt do it for you tonight, Crolla said. I believe I can come again. Im just going to go away, spend time with family, friends, then sit down and take it from there. I lost to the better man. Im just really sorry.
Linares landed the bouts decisive blow in the seventh round. This was a sickening left uppercut that floored Crolla. It left him shaking his head in that manner many disorientated floored fighters can offer as they try to recover, and from then the bout was going only one way.
Crolla was roared on by a home crowd of around 14,000 who turned up at the Manchester Arena to see if he could pull off a victory that would have been written up as notable shock should it have happened.
Crollas big pre-fight move was to forgo any distraction, taking heed of the advice of his trainer, Joe Gallagher, by staying in the citys Radisson Blu hotel for a week to ensure prime focus.
After a rousing rendition of Neil Diamonds Sweet Caroline, in strode the fighters and after the razzmatazz ended the bell sounded for the opener.
Crolla began by bouncing around in hungry fashion. The first blow he landed was a right to Linaress chest region. After some feints in came a Crolla left, again to his opponents torso. Linaress main response came towards the end with two or three right-left combinations, though it felt like Crollas three minutes.
As the second round teed off Linares searched for a way through the home fighter with quick jabs and follow-ups to the head. Twice Linares went left-right at Crolla, picking him off to the forehead and temple region. This was a concern as it was reminiscent of how he wreaked damage in Septembers previous meeting, and by the close Linares had squared it up to a round a-piece.
The contest had not yet warmed up, though. At the start of the third, the referee, Howard Foster, had to inform Crolla not to repeat a low punch. And following a Crolla round-house left, Linares hurt him with a right uppercut that knifed through the younger manschin.
Linares still struggled for ascendancy but the signs were there that he could soon establish this. His work was proving a fraction quicker and heavier and as each walked out for the fourth the visitor was ahead.
A Crolla left buttoned Linaress chin early in the round and now the home fans began singing his name. Yet this was muted as Linares went up-and-down with a left jab and right straight-arm that brought oohs from ringside.
Crolla edged this three-minutes to make it two apiece, though he would claim only one more on this correspondents card by the close.
As the sixth started the contests pattern showed Crolla walking on to Linares, with the Venezuelan ducking the hurt the 30-year-old intended to inflict. Linares kept catching Crolla, as he did so notably a minute or so into this round.
The seventh began with Linares two up, so Crolla had to start seriously asserting himself. Still he tried to walk Linares down and still he found him slippery. Now came the contests show-stopping punch the thudding uppercut that stunned Crolla and placed him on his backside. It caused a count of eight and the Mancunian was now in survival mode. It was stay-out-of-trouble time and, to Crollas immense credit, he rallied and made it to the end of the round.
He survived to the close of the final 12th, too: just as Crolla did when he fought Linares in September.
But, just as then, there was no doubt who was the better man and who was the deserved victor.
Read more: http://www.theguardian.com/us
The post Anthony Crolla shows heart but loses on points to Venezuelan Jorge Linares appeared first on Beauty Questions Information Answers.