Why the rock gods of the past are headlining elsewhere as they are dropped from line-ups at US music events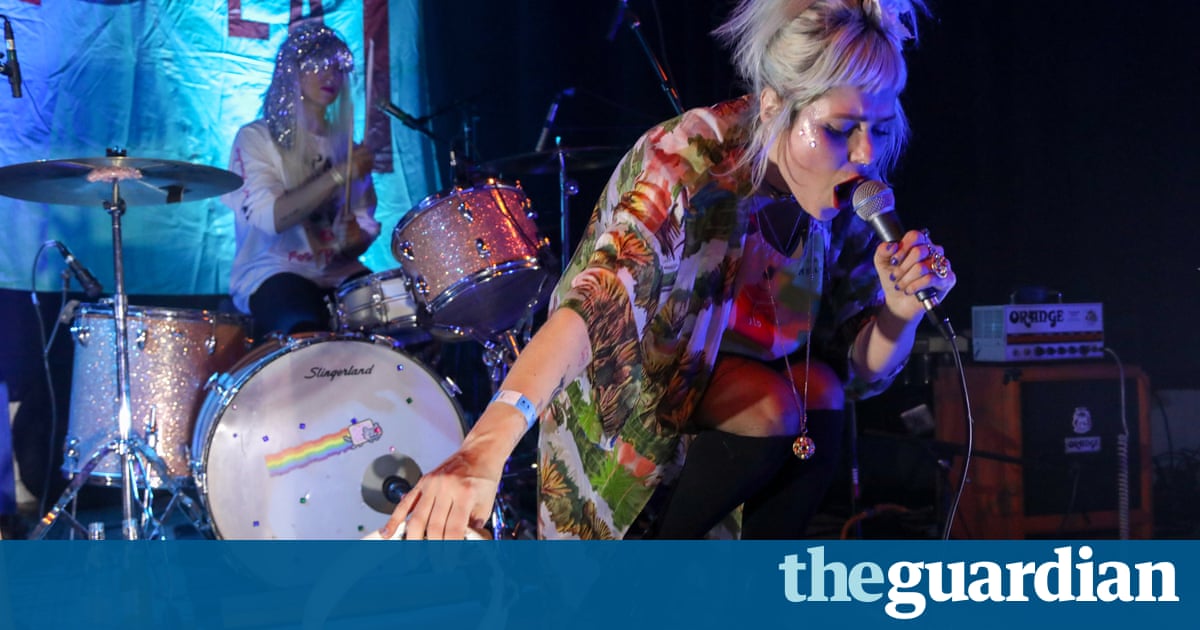 Coachella, the spring rite of passage for tens of thousands of California teenagers, kicks off this weekend with the familiar components: a superb desert vista, a funfair, stages for music, tents with DJs, celebrities and fashion.
As a festival it could hardly be described as counter-cultural, yet this year there has been a minor revolution: after years of promoting re-formed oldies acts as headliners, this years festival boasts a lineup not withstanding relative oldsters Radiohead that includes Lady Gaga, and Kendrick Lamar, as well as 150 other bands and DJs. Some of their names are bold-faced Father John Misty, Lorde, Gucci Mane, Future Islands, D.R.A.M. but many, althoughon the up, cannot claim to have arrived, such as Kehlani, Warpaint, Nao and Tacocat.
Strikingly absent are bands that the music industry now calls heritage acts. No AC/DC, no Black Sabbath. No Rolling Stones. No Paul McCartney. With the exception of New Order, no one from the 70s or 80s and hardly anyone from the 90s.
Its a change that defines a generational split many years in the making and breaks the logjam of established performers. Youve heard the expression, youth must be served, right? says Gary Tovar, the man who founded Coachellas parent company, Goldenvoice, and named it after a strain of marijuana he once imported from Thailand. Were bringing in the fresh stuff. Its not a conscious thing to make it younger but we arediversifying.
Babyboomers, who lay claim to rocknroll as their own and remain a potent economic force, are being hived off to heritage spectaculars like last years Desert Trip or Oldchella as it has been called featuring the Rolling Stones, McCartney, the Who, Neil Young and others, and this years Classic East and Classic West shows headlined by Fleetwood Mac, the Eagles and Steely Dan.
New festivals, including Goldenvoices Arroyo Seco outside Los Angeles in June, featuring Tom Petty and the Heartbreakers, Mumford and Sons, Alabama Shakes and Weezer, are being developed to accommodate the middle range those neither pensionable nor wealthy enough to afford Desert Trip, but who are no longer up for the Coachella market. Theres starting to be a disconnect, says Tovar. You could be relevant 10 years ago but youre not relevant now because the kids just dont know you.
Some of the older audience dont want to put up with young people. Im seeing comments from people in their 30s and 40s and 50s making fun of band names like people used to do with Grateful Dead or Jefferson Airplane. Theyre acting like their parents. Maybe they feel too old or theyre intimidated, I dont know, but theyre putting a knock on contemporaryCoachella.
Some of that resentment percolated through social media last week after a New Yorker profile of the Goldenvoice chief executive Paul Tollett suggested that Kate Bush had been turned down by Coachella because nobody would get her a rebuff that seemed to rub salt into the generational wound.
Tovar says the magazines interpretation was far from the truth. As long ago as 1981, when he was promoting shows using profits from a weed-smuggling operation, Tovar had sought to bring Bush to the US: I had loads of money so I want to put the Smiths with Kate Bush. The problem was she did not like to fly.
The point was clear nonetheless: Coachella and festivals like it are undergoing a fundamental shift.
In some ways it is a surprise it has taken so long. Gary Bongiovanni of trade paper Pollstar says the concert industry has been anticipating the end of the superstar rock era for decades but the day never seemed to come. Weve known it and pondered it for 30 years, yet so many of what we call the heritage acts are still vibrant today. Some make more money now than they did when they were all over radio because they appeal to an older audience who can support a higher ticket price.
But Bongiovanni concedes that the mix of artists is changing. From a performers perspective, playing a rock festival like Coachella or Glastonbury is not a strictly financial decision. Paul McCartney might want to play Coachella so that a younger audience can find out what this Beatles stuff was all about. That fosters his career going forward, but hell still make more money doing his own shows.
Separation could serve as a liberation since the rock gods of the past have never been replaced, says rock author Barney Hoskyns.
The counter-culture itself got absorbed and commodified. You didnt have a new generation of bands that came up and genuinely became the new Dylan or the new Stones or Eagles. With each reiteration rock fades and becomes a little more meaningless. Maybe when theyve all gone something new will rise like the phoenix from the ashes.
Hoskyns thinks festivals have become an empty ritual of drugs, fashion and piercing, and deeply conformist. Whatever it is, its not radical. When rebellion becomes conformity youre at a dead end. Coachella is about Coachella, and Glastonbury is about Glastonbury. Its not about who is playing.
Tovar, who began his second and legal career as a promoter after making a fortune as Californias premier importer of Thai sticks and Acapulco gold from Mexico, says that music will always be the primary focus for Coachella. But the festivals location surrounded by snow-capped mountains and sophisticated amenities are a draw too.
The new diversification also has an economic logic. Pollstar data shows that artists over 50 account for more than half the total touring revenue. Goldenvoices Desert Trip raked in $160m, or nearly twice as much as Coachella ($94m). We got them in time. Bob Dylan was 75 and the youngest, Ron Wood, a baby at 69, saysTovar. But can the old boys go on for ever? This summer former Pink Floyd bassist and songwriter Roger Waters is touring to promote a new album, and Fleetwood Mac are adding more dates. And then theres hope for another Desert Trip.
Its no secret who Tovar and Tollett would like to book. Wed like to bring up the Led [Zeppelin], if you know what I mean, Tovar says. And put Roger and Dave [Waters and Gilmour of Pink Floyd] back together.
But as 120,000 teens and millennials descend on Indio valley for the annual music bacchanalia, Tovar has a message for the naysayers when it comes to the new, youthful-looking Coachella. The setting is magical and theres always bands coming up to watch, he says. I have my own reality: I dont dwell on other people. Idont notice them because I go for themusic.
UP AND COMING IN CALIFORNIA
Tacocat the feminist punk rock quartet from Seattle use humour and sarcasm to dismiss male street harassment and mock the politics of white male skinheads. Wrote the period-positive beach anthem Crimson Wave.
Future Islands the Baltimore synthpop band have a new album out, but will they find another hit to match Seasons (Waiting on You)?
D.R.A.M. stage name of Shelley Marshaun Massenburg-Smith. Broke outlast year with his hit single Broccoli, which featured the rapper Lil Yachty. Hewas described by the website Noiseyas sounding like [the funk pioneer] George Clinton taking a trip intothe future and trading in acid for molly [MDMA].
Kehlani the part Native American, Spanish and Filipino R&B up-and-comer came out of the teen pop group Poplyfe and writes songs described as blunt, unflinching, and exuberant.
Father John Misty the laconic folk musician Josh Tillman, formerly of Fleet Foxes. Misty released his third album, Pure Comedy, this month. He told the NME last week that he shaved his beard off after Donald Trump won the US election and considers the president the perfect symbol of the failure of our culture.
Read more: http://www.theguardian.com/us
The post Talking about a new generation festivals ditch the heritage acts appeared first on Beauty Questions Information Answers.